It's already Fall and we received our first rain this week, but it is still hotter than blazes here in Lompoc, California, and we're looking for refreshing ways to eat. DIY tacos are always an easy meal to serve since we feed our work-stay guests and WWOOFers - everyone can put their own fillings, manage their spice tolerance, and easily manage any dietary preferences or allergies they might have. So we usually serve up a rocking taco bar with farm-fresh salsa on a weekly basis when it's summertime. This week's salsa got a spruce up when we found some super meaty mangos on sale! Paired with the pineapple tomatoes in our garden, this salsa fresca is the perfect mix of sweet and spicy to top an American style taco.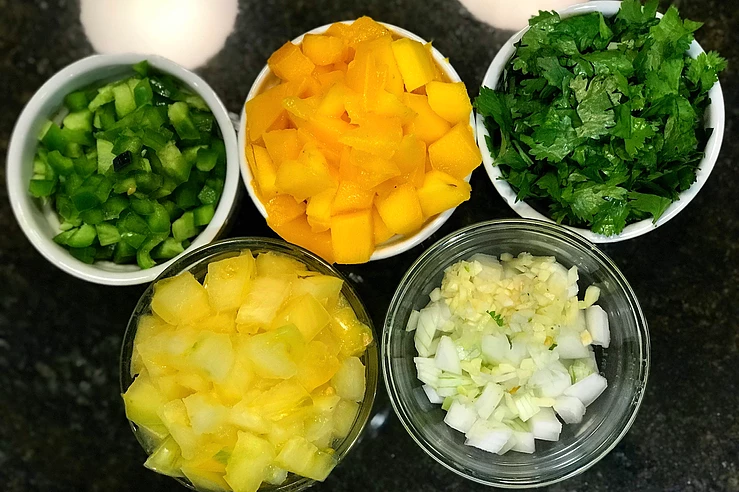 Ingredients:
1 large yellow pineapple heirloom tomato
1 large mango
1/2 green bell pepper
1 jalapeno pepper
1 small white onion
2 cloves garlic
1 bunch cilantro
Juice from 1/2 lemon
Salt and pepper to taste
Instructions:

Dice the tomato.

Peel, seed, and chop the mango.

Halve the peppers and remove the seeds. Finely dice the peppers, onion, and garlic.

Roughly chop the cilantro.

Mix all ingredients together and refrigerate for 1 hour to allow flavors to set. Serve cold with chips or tacos.
The Dare 2 Dream Farms guinea pigs gave this a "best mango salsa ever" compliment so we're excited to see what you think about it! Let us know in the comments!My co-chef, Wyatt (3 years) lent a hand for a demonstration on mixing techniques and added his own secret ingredient. See here for extra giggles.
Reposted: 1/28/2021
Disclaimer: We use the Amazon affiliate link program and if you click on a link we may get a small commission.