When all the eggs have been washed and packaged up for sale at the farm each week, the house fridge ends up with flats upon flats of eggs that are unsaleable, because they're either too small, too big, or have imperfections that don't meet the grade requirements. At most, we get about 12 flats of 30 eggs, or about 360 eggs per week that we need to use. It sounds like a lot; but with a gaggle of #WWOOFers in our community kitchen cooking themselves breakfast and lunch every day, we manage to get through most of them. But at the end of the week, if there's still lots of eggs left, we're always thinking of egg-heavy recipes so there are no wasted eggs: angel food cake, meringue, custards, Panna cota, lemon curd (yea, they're mostly desserts!) But crepes and Hollandaise sauce are also great ways to use up eggs for a Sunday breakfast or breakfast for dinner during the week. You can add anything to it: ham, bacon, prosciutto, or any other cured meats, and leafy greens or sauteed veggies. But this is one amazing combo!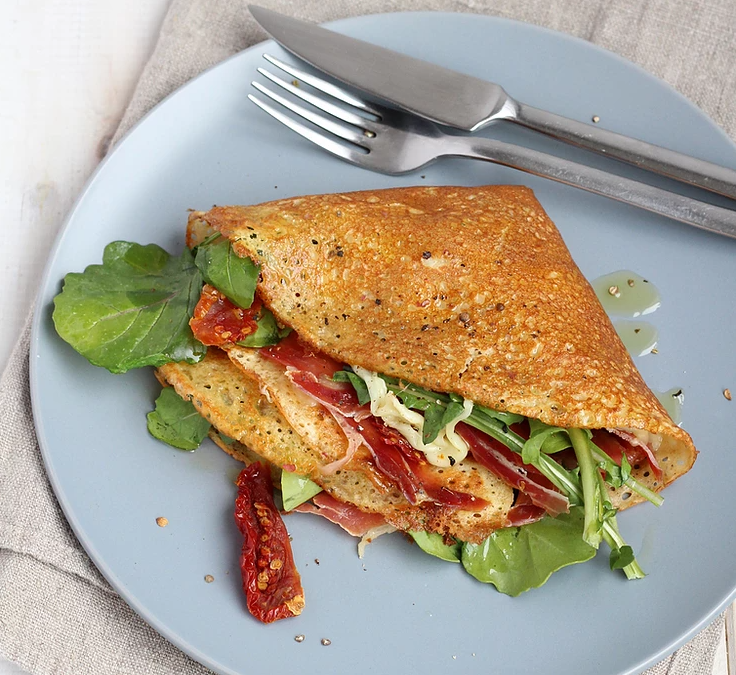 There might be greens in this dish, but lets be real: it's indulgent and decadent and we won't lie to you about the nutritional facts. It's worth every bite though!
Ingredients:
Crepes:
1½ cups milk
3 eggs
1½ cups flour
2 Tbsp. vegetable oil
Hollandaise Sauce:
½ cup melted butter
2 egg yolks
3 Tbsp. fresh lemon juice
1/2 tsp salt
Toppings:
1/2 lb prosciutto (or substitute bacon)
4 oz sun-dried tomatoes
1/2 cup washed arugula leaves
1/4 cup shredded mozarella (optional)
Instructions
Crepes:
Blend milk, eggs, flour and vegetable oil in food processor until smooth. Fry crepes in a large frying pan or griddle over medium heat and set aside.
Hollandaise Sauce:
In a microwave safe bowl, beat egg yolks, lemon juice, and salt. Slowly stir in the melted butter. Microwave for 15-20 seconds on high and whisk immediately.
Assembly:
Fold warm crepes in half, add toppings, and fold in half again. Drizzle with Hollandaise sauce. Indulge! 
#arugula #crepes #prosciutto #tomatoes #hollandaise #breakfast #dinner #eggs
Reposted: 1/28/2021
Disclaimer: We use the Amazon affiliate link program and if you click on a link we may get a small commission.