The first thing that came to mind after putting together this week's Farm Box list was Asian. Throughout my 23 years career in the kitchen, I've cooked many different types of cuisines but my all-time favorite next to French is Asian.
Luckily for me, Dare 2 Dream really gives me the freedom to express myself as a chef, not only through our Farm 2 Table Dinners, which starts next month"hint hint" ;) but also through this blog. So this week I wanted to show you a really easy way to make a quick and tasty Asian lunch or light dinner with the ingredients you already have at home or in this week's Farm Box.
Asian Chard Wraps
2 Servings
INGREDIENTS
3-4 caps Shiitake mushrooms

1 tbsp butter

1/2 tsp garlic, minced

3-4 large chard leaves with stem

1/2 stalk celery, thinly sliced

1 layer of fennel bulb, thinly sliced

2-3 medium beets, shredded

3-4 chard stems, thinly sliced

1 cup frisee, roughly chopped

1 tbsp cilantro, roughly chopped

1/2 cup braised chicken (optional)

2 tbsp peanuts, crushed
Marinade
1 tbsp fresh orange juice

2 tbsp soy sauce

2 1/2 tbsp rice wine vinegar

1/4 tsp raw honey (I used our Sage Honey from the Farm Stand)
DIRECTIONS
Thinly slice Shiitake mushrooms, quickly saute them in a hot pan with the garlic and butter, place in a bowl, and let it cool.
Bring a medium pot of water to boil, take 2 swiss chard leaves at a time holding them by the stem and stir around in the boiling water for roughly 10 seconds, place the leaves in a bowl of ice water to stop the cooking process, once cooled spread the leaves out and pat dry, place to the side. This process is called blanching.
Take mushrooms, celery, fennel, beets, chard stems, frisee, cilantro, chicken and mix up well in a bowl.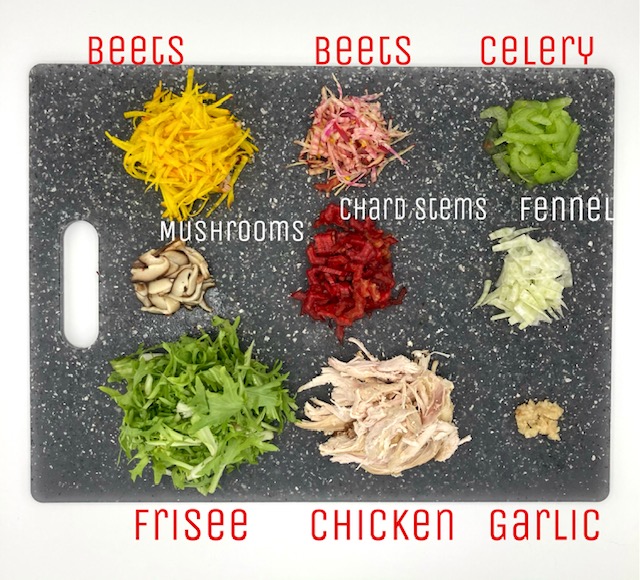 In a separate bowl add orange juice, soy sauce, rice wine vinegar, honey, mix well. Add to chicken and veggies, mix well and let it sit for 5 minutes, mixing once or twice. This will allow the veggies to break down and absorb the flavors.
Take the swiss chard leaves and spread out well, add chicken and veggie mixture to the center of the leaf.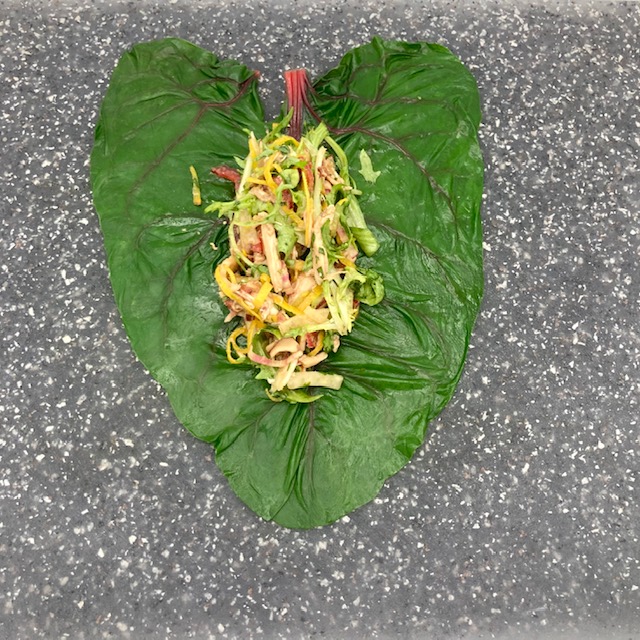 Roll it up like a burrito and place on a plate, add chopped peanuts.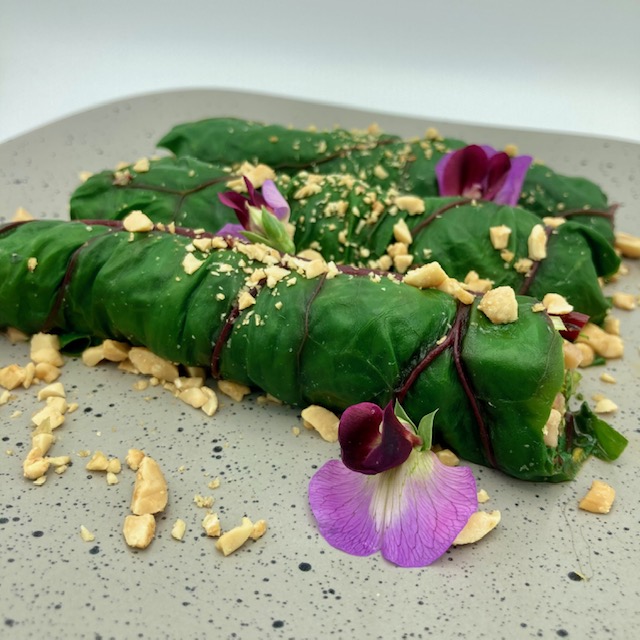 Pro Tips:
Substitute soy sauce for coconut aminos, which is a sauce made from the sap of coconut palms, contains less sodium than soy sauce making it healthier.

Add a small splash of fish sauce and a couple of drops of sesame oil to the veggies to boost the flavors.

A rotisserie chicken is a quick and easy addition.