Be-leaf-me these greens are super delicious and versatile. Today I'm going to give you another cool way to utilize this amazing member of the brassica family, but first here's a little background on Arugula.
Also known as Rocket, Rucola, Roquette, and Ruchetta, this annual is native to the Mediterranean and has been used for thousands of years for its culinary and medicinal uses. It was even once believed to be an aphrodisiac, as a love potion if used with lavender.
Its peppery and somewhat bitter flavors are more commonly used today as a raw salad green, layered on sandwiches or burgers, added to soup or stews, topped on pizzas, tossed in pasta, or even used to make sauces which brings me to today's recipe, Arugula Pesto.
Pesto originates from Italy and the word "pesto" in the Genovese language comes from the word "pesto" in the Genovese language comes from the word pestare, meaning "pound" or "crush". The first modern recipe for pesto was published in 1863, and over 100 years later here is yet another version of this timeless sauce.
Arugula Pesto
Yield 2 cups
INGREDIENTS
2 cups arugula, packed

1/2 cup almonds, sliced and toasted

1 tsp garlic, minced

1/2 cup parmesan cheese

3/4 cup extra virgin olive oil

Salt and pepper, to taste
DIRECTIONS
In a food processor or blender, combine the arugula, almonds, garlic, parmesan, and pulse to blend.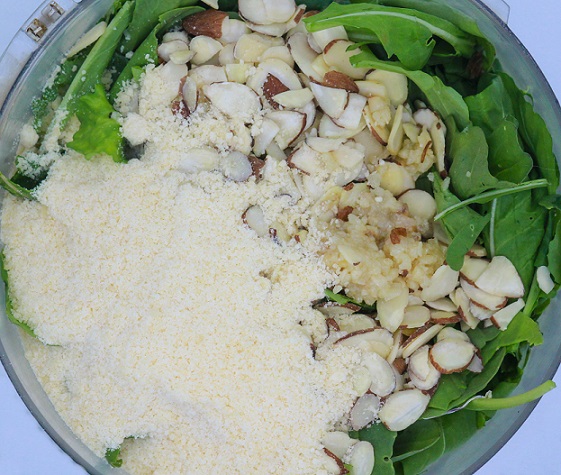 While the food processor is running pour in the olive oil slowly until smooth, stopping to scrape down the sides with a spatula. Add salt to taste, roughly 1 tsp and 1/2 tsp fresh cracked black pepper.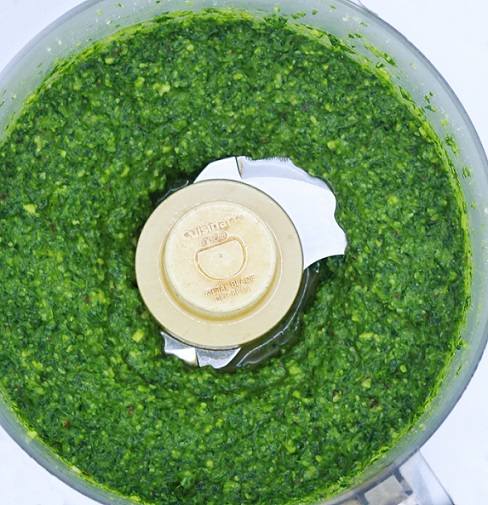 Store in an airtight container in your fridge for about a week. You can also freeze it for up to 6 months.
Use it for pasta, on pizza, for scrambled eggs, as a salad dressing, on top of a piece of toast, or as a sauce for your meat.
Pro Tip: Substitute the arugula with parsley, cilantro, or equal parts of both. Also, try adding equal parts pesto to marinara, alfredo, or both. You can substitute almonds for pinenuts, hemp seeds, walnuts, or any nuts of your preference.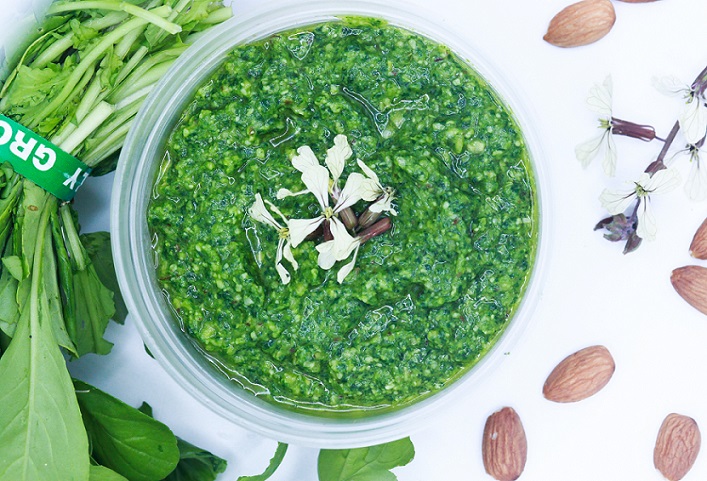 Photos by Julia Quintero