We've had a lot of things come out of my ears on this farm before: peppers, tomatoes, zucchini to name a few... but this is the first time we've ever had this much eggplant coming out of our ears. It's INSANITY! Though, it's also forcing us to get really creative with our dinner dishes. Usually, I lean heavy Italian like eggplant Parmesan or eggplant pomodoro. But with all the ingredients in today's CSA Box this recipe came up and we're excited to share! Cannon Haines who is currently managing the garden came up with this sweet recipe on his lunch break one day using only things from the garden and offered to share it. This recipe is good for two, but with all your eggplant, you might want to invite some friends over for a late summer dinner!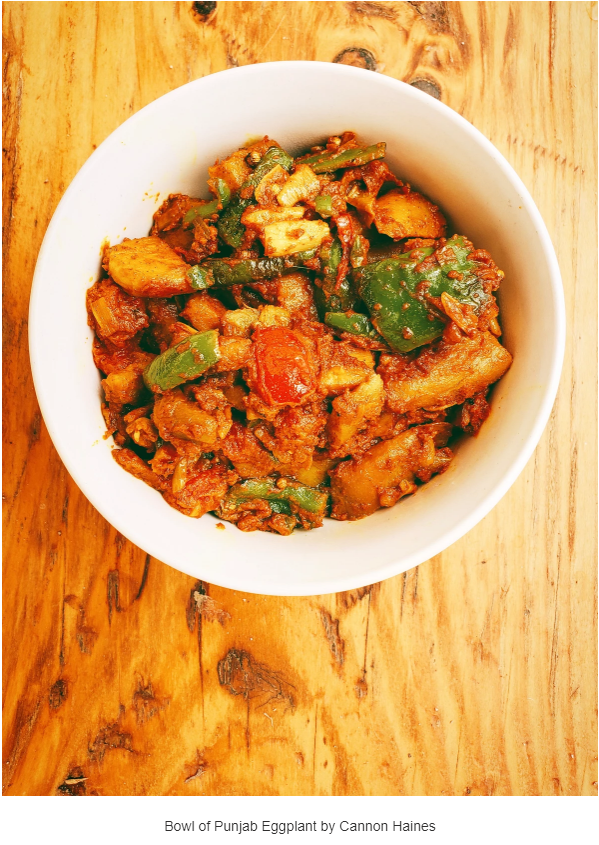 Ingredients:
1 Eggplant
1 Onion
1 Bell Pepper
1 medium to large tomato
1/2 tsp paprika
1/2 tbsp turmeric
1 Clove Garlic
1 tbsp coriander seed
Pinch ginger powder
2 tbsp olive oil
Lime juice to taste
Salt to taste
Instructions:
1. Peel and butterfly eggplant, and sprinkle with a pinch of salt. Place a paper towel over the eggplant and allow to sweat for 30 minutes.
2. Dice onion, bell pepper, and tomato.
3.Add oil and coriander to saute pan and place over medium to high heat. Toast coriander seeds and add minced garlic.
4. Once the garlic starts to brown, approx 2 min, add onions and peppers.
5. When onions begin to caramelize, add eggplant and tomatoes.
6. Add the second tablespoon of olive oil and add the rest of the spices.
7. Mix well, and add a dash of lime juice.
#eggplant #punjab #indiandishes
Reposted: 1/28/2021
Disclaimer: We use the Amazon affiliate link program and if you click on a link we may get a small commission.