One of the first things that come to my mind when thinking about a beautiful garnish for my next dish or a crisp, peppery flavored treat, I think of Radishes.
These amazing edible root veggies which are part of the Brassicaceae family are a go-to for any chef or vegetable lover and have been for many years. Without any proof of when and where we started domesticating radishes, many believe that it's somewhere in Southeast Asia since the first mention of radishes in written records comes from the 3rd century B.C. The ancient Egyptians actually used radish seed oil before finding out about olive oil.
Today after cultivating many different varieties radishes are still very popular worldwide. Around seven million tons are produced every year and roughly four hundred million pounds are eaten by just Americans alone. As far as U.S. production goes, California and Florida are the two best producers and grow year-round.
Radishes come in many different sizes and colors such as yellow, pink, white, black, red, or purple. You can also eat the leaves, the younger leaves can be eaten like spinach, the older and larger you should cook them. Picking the perfect radish depends on what you are looking for. As a chef, I'm always looking for the smaller ones because of size and shape, but also because of the flavor and degree of spiciness. The larger the radish is the spicier or peppery it will be.
Today I am going to give you a brief description of three of my favorite varieties and the ones you will be seeing in our Farm Box.
Easter Egg Radish
This spring variety is actually newer to the market. They have a crisp mild radish flavor and are mainly used for their beautiful colors which are mixed with pink, purple, red, and white. With their quick germination cycle, they are very popular with farmers.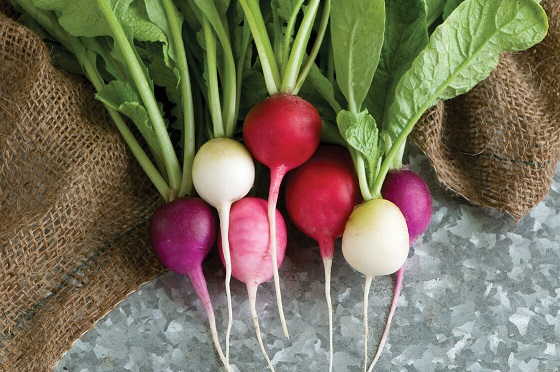 French Breakfast Radish
Another quick germination radish that is a farmer's favorite. These cylindrical beauties range from 2-4 inches in length and are pinkish-red to bright white color. They are usually a chef's favorite because of the size, color, and mild pepperiness. They are great for grilling and roasting, this will actually bring out sweet and nutty flavors.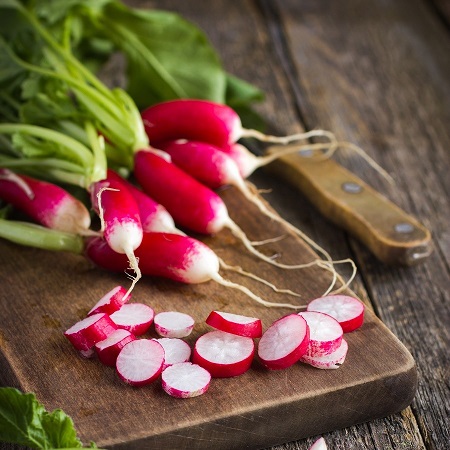 Daikon Radish
They are a winter radish so takes longer to grow, that is why you won't see them as much as the other two varieties, but here at Dare 2 Dream we love the Bravo Daikon for their great beauty and flavors, so we aren't too worried about letting them sit in the ground a bit longer.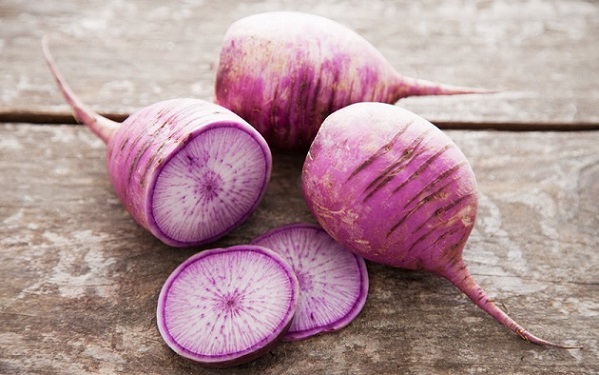 They are used mostly in Asian cuisine. Daikon in Japanese means "great root" because of their longer appearance. Actually, one of the most popular applications for daikon is in the
Vietnamese sandwich Banh Mi, one of my favorites.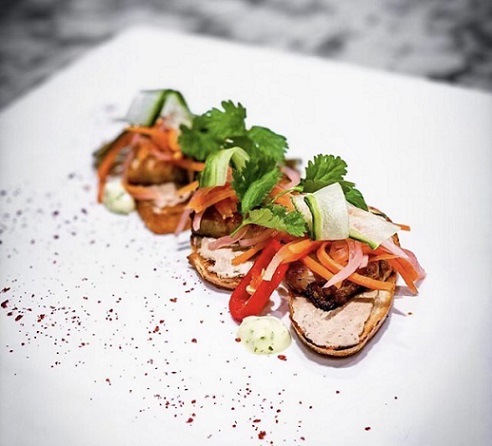 Ryan Shepard's deconstructed Banh Mi 
I really hope this little bit of information will get you excited to try all the different varieties that are out there and to see for yourself the wide range of flavors and colors that are awaiting you.