This week, the Raff Familia headed to Portugal to visit our 2014 WWOOF-USA guests that became dear friends. Kristen Kelley and Andrea Ribolla opened a pizzeria in Zambujiera do Mar in Portugal this year, where we will visit them, along with discovering Lisbon with them for a few days. In appreciation, we have shared a delicious veggie-forward dish that we'd like to bring home with us: Caldo Verde, Portugal's Green Soup.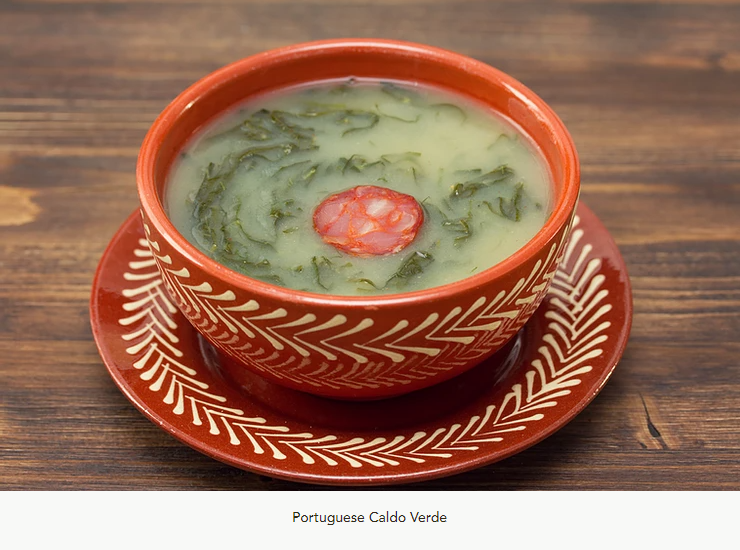 This soup is traditionally made with linguiça, a Portuguese smoked sausage, but if you're interested in making this dish vegetarian, substituting plum tomatoes should work fine. Additionally, the greens that are used in this dish are not available outside of Portugal, but Kale or Collard Greens will work just as well as a substitute when preparing this dish. The trick to julienne the greens for this soup is to create a chiffonade. Remove any thick stems from the kale or collard greens, stack about 4 leaves together, roll them like a cigar, and slice it thinly. This allows for a cleaner cut without damaging the leaves for a beautiful julienne of leafy greens. Traditionally, water is used for this soup, but you may substitute a vegetable or chicken broth, or even a split of half broth and half water.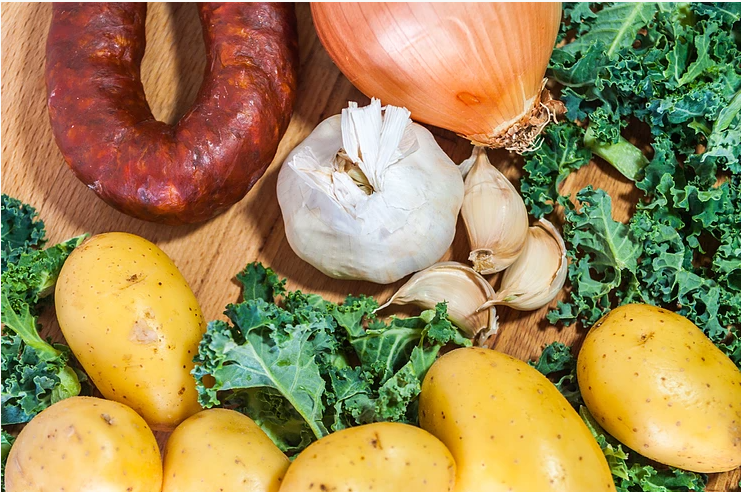 Ingredients:
1/2 cup EVOO plus extra for garnish
1 lb linguiça sausage
1 yellow onion, chopped
4 cloves of garlic, minced
2 lbs of Yukon gold potatoes, peeled and diced
8 cups water and/or broth
1 bunch kale or collard greens (thick stems removed, chiffonade)
Salt and Pepper to taste
Instructions:
1. Slice linguiça into 1 inch medallions.
2. In a soup pot, pour 1/2 cup EVOO and heat over medium-low.
3. Add linguiça medallions and saute in EVOO, stirring occasionally for 3-5 minutes. When finished, use a slotted spoon to remove the linguiça and hold it in a separate dish.
4. Add chopped onions and minced garlic to the pot, and saute until translucent, stirring occasionally, about 5 minutes.
5. Add diced potatoes, saute for 2 minutes.
6. Add water/broth, cover the pot , and bring to a boil. Once boiling, lower reduce the heat to simmer 15-20 until the potatoes are soft.
7. Using an immersion blender, puree the soup.
8. Add the greens to the soup, bring the soup back to a boil, and then simmer for 2 minutes.
9. Season with salt and pepper.
10. Ladle the soup into bowls and add linguiça medallions. Tradition states just one piece of linguiça is served per bowl, but feel free to add a few! Serve warm with bread.
 Aproveite!
Reposted: 1/28/2021
Disclaimer: We use the Amazon affiliate link program and if you click on a link we may get a small commission.