Purple foods are a heavy hitter when it comes to raw nutrients and cancer-fighting antioxidants. Generally speaking, the brighter the color the richer they are in these properties. Anthocyanins are the antioxidants responsible for the beautiful deep red or purple color found in crops like carrots, radicchio, cauliflower, cabbage, and kohlrabi pictured above. In addition to fighting free-radicals, these bright foods may also offer anti-inflammatory and anti-viral benefits. As we eek out the last days of winter and look forward to spring at the end of this month, pack in those purple foods to keep colds at bay and help your joints and old injuries work through the chill!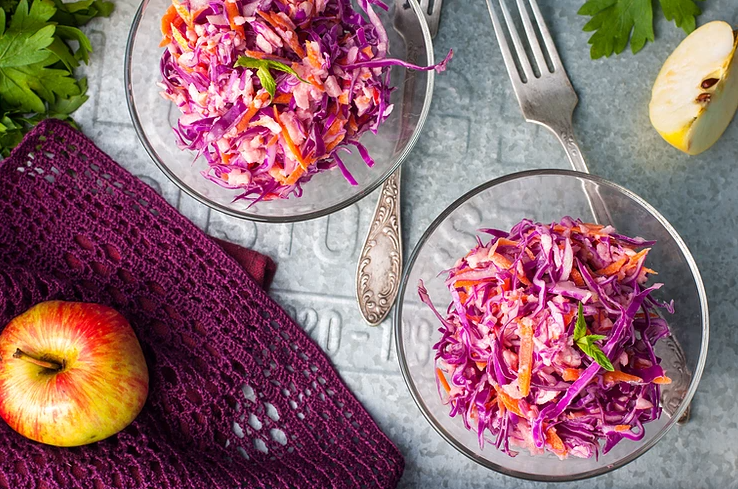 Ingredients:
1/4 head purple cabbage, julienned
1 purple kohlrabi, peeled and julienned
2 purple carrots, julienned
2 red apples
2 tsp fresh grated ginger
3 tsp apple cider vinegar
1/2 tsp mustard powder
1/2 tsp Himalayan salt
1/2 tsp freshly cracked pepper
1/2 tsp sugar
3 tbsp Extra Virgin Olive Oil (EVOO)
Instructions:
1. Wash, core, and julienne 1 1/2 apples. Finely chop the remaining 1/2 apple and set aside.
2. In a salad bowl, combine julienned cabbage, kohlrabi, and carrots.
3. In a food processor, add grated ginger, chopped 1/2 apple, apple cider vinegar, mustard powder, salt, pepper, and sugar. Turn on high and blend until the mixture is smooth. With the processor on high, drizzle EVOO into the mixture.
4. Toss the vegetables with the vinaigrette.
5. Refrigerate for 1 hour, and serve cold.
#ginger #kohlrabi #carrots #apple #slaw #EVOO #Cabbage #coleslaw #farmslaw
Reposted: 1/29/2021
Disclaimer: We use the Amazon affiliate link program and if you click on a link we may get a small commission.