In our north-south canyon near the coast, it stays cold enough to grow Brassica plants year-round (think broccoli and cauliflower) that typically grow best in cool spring and fall seasons. Kohlrabi, one of the lesser-known Brassicas, can be hard for many to use because its flavor isn't well known, so it's a hard vegetable to fit into dishes that are traditional or easy to prepare. We love to get people using this vegetable in fresh and easy dishes to prove it's worth. This great recipe also uses an aioli that's easy to make ahead and use in other dishes throughout the week!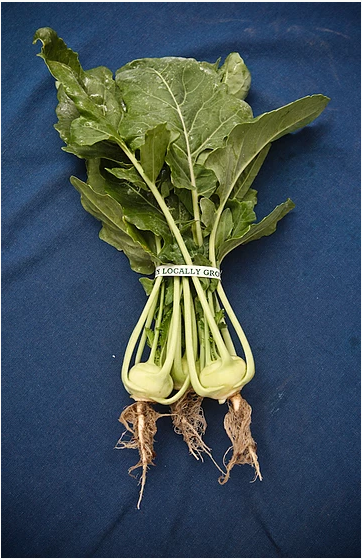 Garlic Aioli:
In a food processor mix until smooth:
·       1 whole egg
·       1 tsp crushed or minced garlic
·       1/2 tsp salt
·       1/2 tsp ground mustard
·       1 tsp lemon juice
·       2 tbsp raw apple cider vinegar
·       1 cup olive oil
Process all ingredients together except oil. While the food processor is still going, drizzle in 1 cup olive oil in until a thicker consistency is achieved. This can be prepared ahead of time and stored for a week's time.
For the Slaw:
·       2 Carrots peeled and julienned
·       1 Large or 2 Small Kohlrabi peeled and julienned
·       1 Large or 2 Small Broccoli, crowns only
·       1 Green Apple peeled and julienned
·       Black Pepper
·       Cilantro leaves
·       Crushed almonds
Toss prepared vegetables together and mix in garlic aioli to taste. Garnish with crushed black pepper, almonds and cilantro leaves. Easy peasy lemon squeezy, as we like to say! Great for a quick lunch, a healthy side salad, or even atop pulled pork sandwiches.
#broccoli #kohlrabi #carrots #apple #slaw #aioli #garlic #coleslaw #farmslaw
Reposted 1/28/2021
Disclaimer: We use the Amazon affiliate link program and if you click on a link we may get s small commission.