Don't get me wrong: I love Applebee's Mozarella Cheese Sticks as much as the next person, but that's definitely a rare treat. For a veggie alternative that's just as creamy and cheesy, but without ALL the CALS... I present to you: eggplant parmesan sticks. Yes, it's fried with bread crumbs, cheese, and oil, but we're basically dressing up a veggie and dipping it in the veggie sauce. Remember: they count pizza as a vegetable in school meals because of tomato sauce. Perhaps I'm stretching it, but I feel rather like Martha when I serve these up, and way less guilty than frying up Mozarella sticks.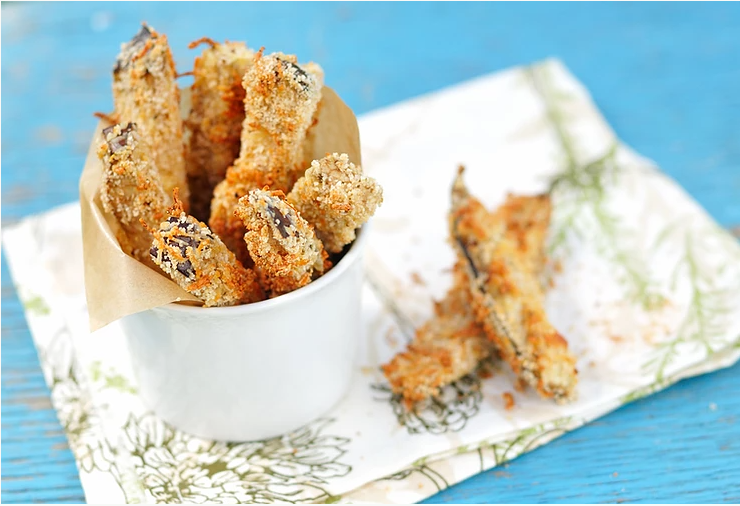 Eggplant Parmesan Sticks Ingredients:
2 Eggplant
3/4 cup milk in shallow bowl
1 cup flour in shallow bowl
5 eggs, scrambled in shallow bowl
1 cup Italian bread crumbs
1/4 cup grated Parmesan cheese
4 cups vegetable or frying oil
Instructions:
Cut off the top and bottom of the eggplant, and peel skin.
Using a sharp knife, cut eggplant lengthwise into long thick fries or wedges. Try to maintain a mostly uniform thickness so they cook evenly.
Mix breadcrumbs and grated Parmesan cheese evenly in a shallow bowl.
Coat eggplant in milk, then flour, then scrambled eggs, then cheesy breadcrumbs. Set aside.
In a large skillet, heat oil to frying temp (about 375). Preheat oven to 350 degrees.
Place coated eggplant in hot oil, turning until brown. Place on baking sheet
Bake eggplant uncovered for 15 minutes on bottom rack.
Serve warm with our Chunky, Aromatic Homemade Marinara Sauce and lots of napkins ;) Reposted: 1/28/2021
#eggplant #applebees #cheesesticks #diyeggplant
Reposted: 1/28/2021